BMW Motorrad dealers can capitalize on the growing marketing of online shoppers through Dealer Spike's premium website and digital marketing solutions. Dealer Spike leverages powerful, innovative services that connect dealers with qualified leads and optimize the online sales process from initial search to the point of purchase and beyond.
---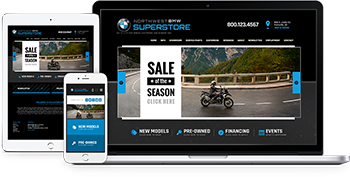 Premium Websites
Dealer Spike provides custom, industry-inspired premium websites for stand-alone and multi-branded stores. Website features include:
Dealership-Inspired Web Design
Optimization for All Devices
Built-In SEO to Boost Performance
Audio Eye Website Compliance
DMS Inventory Integration
And More!
Full Suite of Digital Marketing Services
Digital marketing enhances website performance and extends brand presence beyond the website platform. Dealer Spike works with dealers to create custom digital marketing strategies.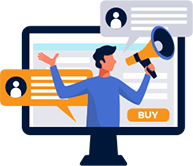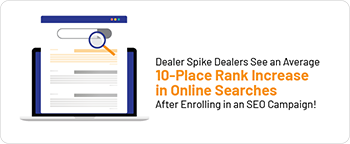 Search Engine Optimization
SEO helps dealers connect with more leads by increasing website performance. Dealer Spike's SEO leverages the following tactics:
Keyword Analysis & Tracking
Monthly Site Optimization
Regular Content Generation
Reputation Management
Business Listing Management
Search Engine Marketing
SEM drastically improves online brand visibility. Dealers who use SEM tactics can drive traffic to their website and boost lead conversion rate through a variety of ads:
Search Engine Ads
Video Ads
Social Media Ads
Dynamic Remarketing Ads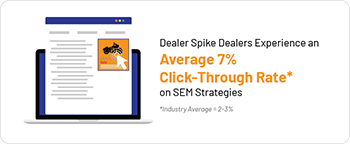 Digital Sales Tools
Dealer Spike provides powerful tools that optimize the online shopping and customer engagement processes. These tools include:
ChatBridgeTM, which is used for online shoppers to chat with sales teams in real time directly from the dealership website.
DealerPic360, an easy-to-use 360° spin photography app to upgrade online listings.
Finally, Auction123, an automatic online inventory management tool that lists and sells inventory on popular marketplaces used to increase sales leads.