Pixel Motion is a full-service agency that combines creative excellence and industry-leading talent to redefine the digital experience. With more than a decade of experience, Pixel Motion specializes in providing custom web platform solutions for the automotive and motorsports industry and sets ourselves apart through our white glove, full concierge customer service. Our responsive dealer websites are customized based on individual dealer needs and their digital marketing goals.
Simply put, Pixel Motion leverages our storied experience in digital advertising with ever-changing marketing trends to create the best strategy for your business. We aren't a one-size-fits-all agency: we personally tailor your PPC strategy to deliver dynamic results.
---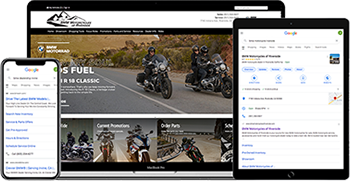 We Do It All
Paid search, dynamic vehicle ads, geo-fencing, lead generation, affiliate marketing, custom landing pages, display advertising, remarketing, video, the list goes on and on- we are your all-inclusive digital services provider. We craft a strategy of exactly what you need to do to elevate your digital footprint for transformative business results.
No Templated Strategy
While we have tried-and-true strategies that we can pull from in our arsenal, every client is unique. We leverage your unique selling propositions, offerings, and business goals into a comprehensive strategy, hitting everything you want to focus on. We don't just set it and forget it- we dynamically adjust as necessary to give you top-performing results.