Today's consumer demands convenience. Historically, that has translated well for online businesses. Podium addresses this need for businesses with a local presence by providing an interaction platform that connects to all major messaging channels and enables users to easily manage all inbound and outbound communications. As a result of growing preference for convenient communication, your dealers are connecting with customers on their terms, and through the channels they prefer.
---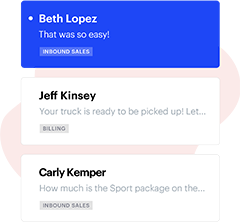 Messenger
All of your messages from Facebook, Google, SMS and more to a single inbox.
Manage and respond to every message from one platform.
Mark read and unread, assign conversations to different employees, and filter conversations between sales and service.
Chat on the go. With Mobile and desktop apps, you can communicate with your leads, customers, and teams from anywhere.
Send automated messages to customers who text your business after hours.
See which messages still need a response and who has already read them.
All customer conversations are saved to a central database.
Improve business efficiency through faster customer communications.
Reviews
Be the #1 choice on the sites your customers love and trust. Simple to manage from start to finish.
Track the reviews of your competition to benchmark your success.
Get found anywhere. With customer reviews on Google, Facebook, and tons of automotive specific review sites, you'll show up where it matters most.
Set up automated review invites, you can gather reviews automatically so you can rank higher and your leads can find you even easier.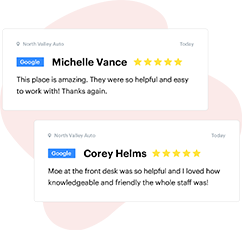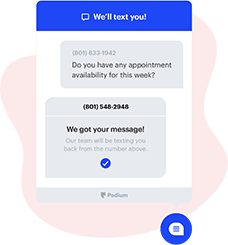 Webchat
Take the conversation offline by responding to your website visitors via text, from there you get the flexibility you both need to keep the conversationGoing.
Quickly capture leads by saving your visitor's name and phone number the second they send a message on your site.
Your customers want to text you. Chat with them on their preferred channel.
Google My Business
Connect seamlessly to your Google My Business listing
Collect reviews on your Google My Business listing
Messages sent to your Google My Business listing via click to message are sent directly to your podium inbox
Increase interactions your customer have with your business via driving directions, click to call, and website buttons.
Podium customers see an average lift in all key interactions on their Google My Business Page including 44% more driving directions, 106% more click to call, 60% more website visits, and 83% more listing views.
Dealers can monitor GMB activity in the Podium Dashboard